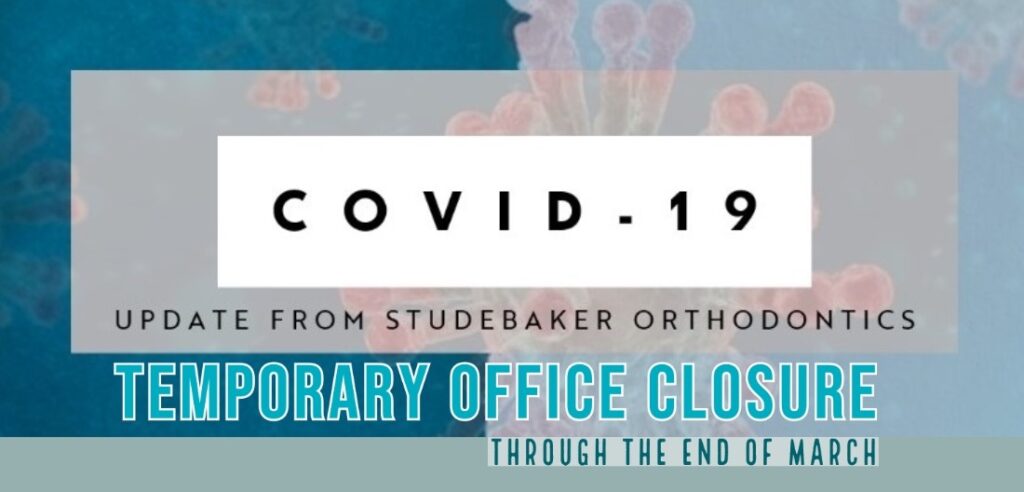 As you are aware, Dr. Studebaker and his team have been closely monitoring the COVID-19 developments and acting in accordance with the guidelines and recommendations from the Center for Disease Control and Prevention (CDC), the Texas Health and Human Services, and the Texas State Board of Dental Examiners to ensure the health and safety of our patients and team members. In response to the latest recommendation from the White House, the American Association of Orthodontists and the American Dental Association, we are suspending all non-essential care for at least the next two weeks – through the end of March.
If you have an appointment scheduled within that time period, we will contact you as soon as possible to reschedule. This will help us to manage the overall appointment calendar in order to best address everyone's needs. We do ask that you text us or email us (rather than call) with any questions or concerns you may have in order to open our lines for true orthodontic emergencies. We will get back to you in a timely manner.
Dr. Studebaker is reviewing each patient's treatment status as appointments are rescheduled to minimize the impact this delay will have on your overall treatment time.
Thank you once again for the trust you have continued to place in us to tend to your orthodontic needs. We look forward to seeing you back in our office soon!