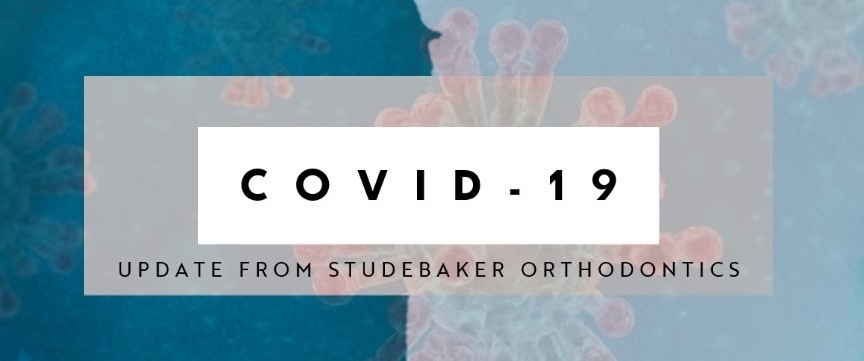 As valued patients, colleagues and friends, we feel it's very important to update you on the steps we're taking to help ensure your safety and that of our team members. The health and safety of our patients, our team and the community at large are of the utmost concern at Studebaker Orthodontics.
Like for many of you, this pandemic is on the forefront of our minds, and we are monitoring the situation closely and acting in accordance with various action plans and OSHA protocols.
We advise our community to follow the government and local authorities' authorities recommendations and remain informed about recent developments regarding the containment and prevention of the COVID-19 virus. You can find detailed information and advice at the Center for Disease Control and Prevention website:
https://www.cdc.gov/coronavirus/2019-ncov/
and Texas Health and Human Services website:
https://www.dshs.state.tx.us/coronavirus/
Regarding our employee and patients' safety; As orthodontic professionals, our office is trained in the proper procedures and protocols to maintain a sterile and safe environment. We follow strict sanitary and preventive measures to avoid spreading any type of disease. Surfaces and equipment are routinely sterilized between patient visits. Team members who are responsible for your treatment always wear protective gear such as gloves, facemasks and eye cover. We have distributed information to our team members who closely follows CDC recommendations for preventative actions to help thwart the spread of the virus. If any team member displays symptoms, he or she will immediately be asked to seek a medical diagnosis and stay home with our full support, both for themselves and for their family, until the symptoms pass.
We ask that if you display any symptoms, refrain from visiting the office. Call us so we can properly arrange your continued care.
Rest assured, we are maintaining our protocols to the highest standard during this time, in which heightened concerns and precautions are required to avoid the spread of COVID-19.
Thank you for your business and for the trust you continue to place in us. Know that we are here to assist you in any way we can.